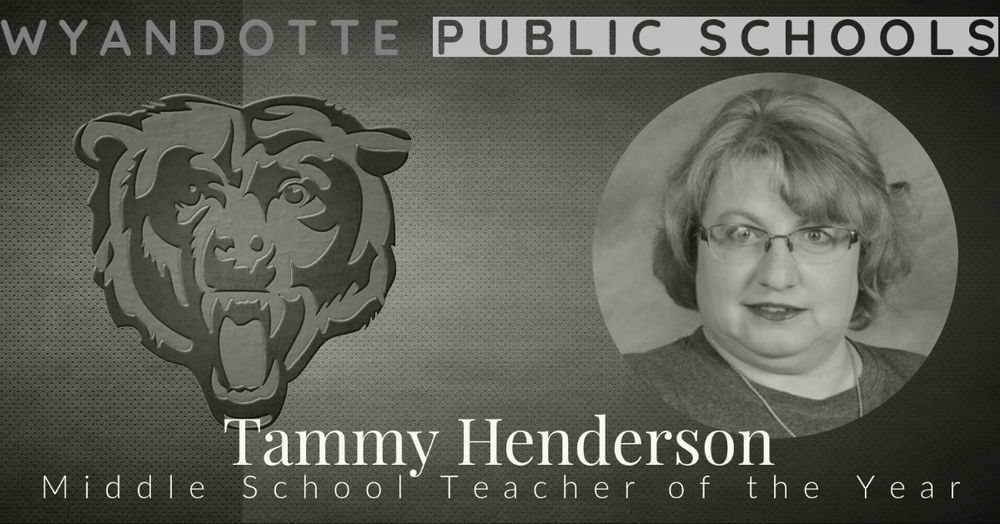 2019-2020 Middle School Teacher of the Year
Samantha Young
Friday, April 03, 2020
The district has adjusted the way we do Teacher of the Year this year. Instead of just one overall Teacher of the Year, we have decided to try to celebrate more of our teachers by giving each site a Teacher of the Year.
The same committee of nine staff members (2 teachers and 1 principal from each building) met to discuss the nominations and then voted anonymously on an Elementary Teacher of the Year, Middle School Teacher of the Year, and then High School Teacher of the Year.
This year's Middle School Teacher of the Year is Tammy Henderson!
Mrs. Henderson teaches eighth grade US History, seventh grade Geography, and one section of seventh and eight grade Native Cultures. Mrs. Henderson is a favorite among students, a dedicated educator, and a leader in the Middle School building. Some of those who nominated her talked about how she is an excellent teacher that is caring and adjusts her teaching to various learning styles and talked about her love of history and geography along with her love of teaching. They said "students really enjoy how she introduces history topics to them."
Others said:
"She is very knowledgeable about Geography and History and looks for ways to make these subjects interesting to her students. She tries to break the stigma that these subjects are boring and not relevant to today's world by bringing in current events to enhance her curriculum."

"She has classroom management skills so students can learn in her classroom. She is a teacher who is excited about trying different techniques to see what works best. She loves her subject and that's what makes students love it too."

"She builds relationships with her students, while holding them accountable for their actions and grades. She is dependable and works hard at integrating technology along with other courses of approach to convey curriculum. It's important to her that her students grasp the importance of our history and integrating it into what is happening in the world today."
Congratulations to our 2019/2020 Wyandotte Middle School Teacher of the Year: Tammy Henderson!