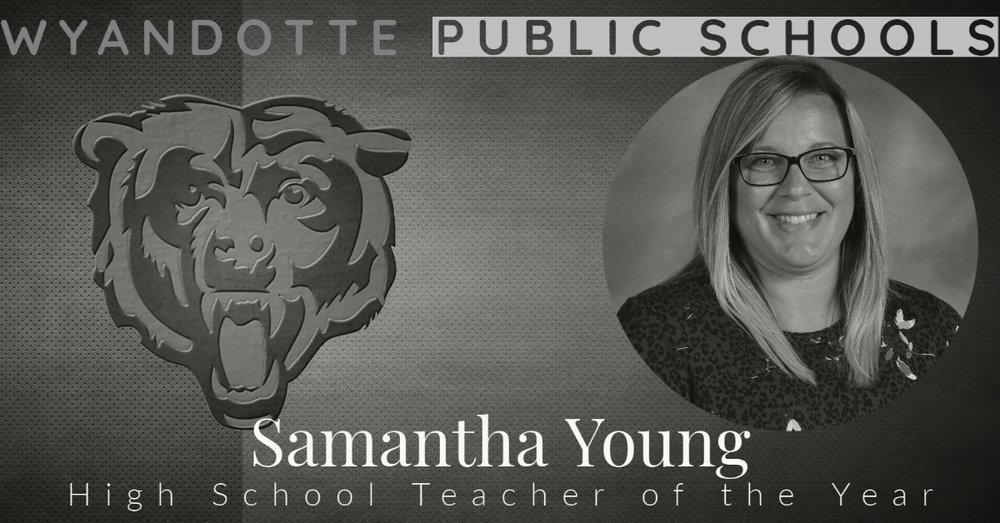 2020/2021 High School Teacher of the Year
Matt Robertson
Wednesday, March 31, 2021
We have been announcing our teachers of the year and have now come to the high school. Therefore, we are honored to announce our High School Teacher of the Year for the 2020/2021 school year: Mrs. Samantha Young. Mrs. Young has been teaching everything from middle school computer science through high school computer science classes with specialized classes like Web Design and others added in as well for Wyandotte Public Schools since the 2008/2009 school year. Mrs. Young contributes to the betterment of Wyandotte Public Schools by running the school's Facebook page, website, and all things digital. She assists as a technology coordinator. She has done as much as anyone to lead the way in the 1:1 movement a few years ago and trains staff in professional development sessions and orientation sessions every year. She is the one who runs the Wyandotte side of the Wengage gradebook system and makes training videos for staff so that we know what to do with our own gradebooks. She is one of the handful of teachers from Wyandotte Public Schools that is frequently sent out to train teachers in other districts in technology. She is a fantastic classroom teacher and despite all of the other roles just mentioned, she remains dedicated to that task as her first love. Her colleagues had a lot of great things to say about her teaching. Here are some examples of things said about Mrs. Young in the nomination process:
Mrs. Young is a better teacher every single year. I know she has been here a long time, not sure how long. I do know that I can see her grow every single day. She is dedicated to her tasks, to her students, and to making Wyandotte a better place every day. Students connect with her and find a willing ear, a shoulder to cry on, and good advice. Most importantly, they find that there's someone in their corner. For some of our students, there aren't a whole lot of people in their corner fighting it out for them. Sure . . . she's a great teacher. But she's also mom, counselor, accountability, and friend depending on the situation. She inspires me to be a person of integrity and discipline and to grow in my skills and weaknesses every day just like she does.

This year, under the conditions we've faced, Mrs. Young has been the one in all of our corner. She's making videos to help with everything from Wengage to Ed Tech. She has been the main impetus in pushing our school to go 1:1 and then to thrive while doing it by constantly finding new tools, tricks, and tips to make us better. She sends out the emails that give us access to resources we otherwise would be unaware of. She leads professional development sessions that are extremely helpful and thorough in their scope. I really don't know where we would be as a staff without Mrs. Young.

Mrs. Young is a great teacher! I actually hate knocking on her door for the simple fact that I know every single time I do, I'm interrupting good teaching. There's almost never a time when her students aren't engaged and she is at the front of the class or at someone's shoulder showing them how to do something.

Mrs. Young is always available for her students and this year that asset has been thoroughly taken advantage of. She communicates with them, comes up with new and innovative ideas that make for creative lessons. Our children are better for having had her in class and I'm extremely grateful for that.

Samantha Young is always doing something that benefits Wyandotte Public Schools in a positive way. She does it all very quietly and draws no attention to herself ever. Whether it's taking pictures for sports, school events, daily school life, etc.. she always makes those pictures available to students and their families. She gives up her time often to post for the school website/social media accounts, reset a password, and/or create accounts for anyone and everyone.

She is a life long learner. She is always learning something new to better herself and so that she can better teach not only her students but her co-workers as well. She not only is a teacher, but also a leader as well. She is the sponsor of the high school student council and co senior sponsor. When it was evident that WPS must go virtual, she is who many (elementary through high school) turned to for help.

I can't say enough nice things about Mrs. Young. I have spent many hours in professional Development with her at conferences, trainings, webinars, etc... She is always gathering ideas for everyone around her. She is always looking for a better way to do something even if it makes more work on her. You will never have to tell her to do something, if she sees something that needs to be done, she will do it. Wyandotte Public Schools would be lost without Samantha Young.

This has been a challenging year for everyone, yet Mrs. Young is always trying to improve on everything. She will poll her students often to see how she can do better. She is not offended by their answers either. She takes them to heart and works on how to accommodate everyone. Virtual learning is hard, but she has searched high and low to find many tools to still be about to personalize her lessons, feedback, and communication with all students and their families. She is one of the most creative and hardest workers I've ever met.

Mrs. Young brings new ideas & suggestions to help the students learn.

The students respect Mrs. Young & want to learn in her class. She always keeps the students engaged in their learning.

Mrs. Young is always trying to find new ways to teach her students. Always looking for more updated programming. She loves her job & the students.

Mrs. Young is very knowledgeable in what she teaches & keeps learning new content.
Samantha is innovative, driven, and knowledgeable in her curriculum.

Samantha keeps information flowing to staff, parents, and students.

I like Mrs. Young's creativity and desire to keep learning. She pushes her students to want to create and learn more each day. She holds students accountable, making them responsible for their own achievement.

Mrs. Young is very creative, yet straightforward. She has stepped up to take on the responsibilities of various district programs and is willing to help when needed.

Mrs. Young is very involved beyond the classroom- the website, sports, STUCO, etc. She does so much for our school and community.

Mrs. Young has helped make Wyandotte students and staff tech literate.

Sam is very personable. Her class is very well organized and she includes real world application is her teaching.

Mrs. Young has a lot of strengths and still continues to make improvements:

Strengths- dedication to her content and her students.

Improvements- she makes everyone's life easier with her expertise on all things Google.
Mrs. Young's building principal, Steve Buckingham said, "Mrs. Young is the heartbeat of WHS. She produces our materials for social media platforms. She and her classes provide our livestream videos for our sports teams. All of these things are in addition to her everyday chores of teaching and guiding her students in Computers I, II, and Web Design classes. She has led our Google platform efforts and is Level II Google Certified."
Even though Mrs. Young is way more comfortable behind the scenes and does not like the spotlight at all, we wanted to celebrate her in spite of her protests and instructions to the contrary!
Mrs. Samantha Young: Wyandotte High School Teacher of the Year!