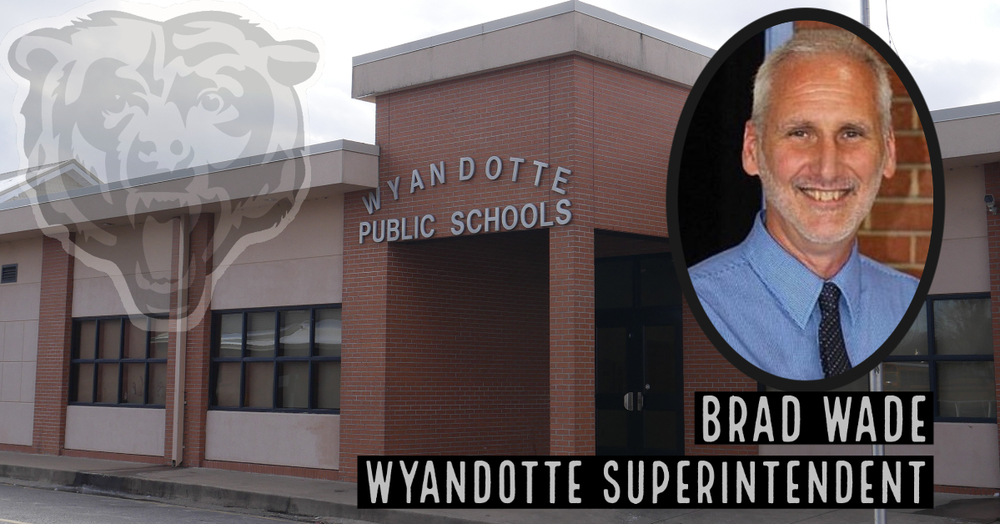 Welcome New Superintendent Brad Wade
Samantha Young
Monday, April 20, 2020
On Monday, April 13th the school board members approved Brad Wade to become Wyandotte's new Superintendent. Mr. Wade is married, has three children, and four grandchildren. He began his education career as an elementary teacher and later taught middle school. He has coached volleyball, football, basketball, and baseball at the middle school and high school levels.
Mr. Wade earned his Masters Degree in Educational Administration and a Specialist Degree in District Leadership from Wichita State University and has held numerous responsibilities during his career in both Oklahoma and Kansas. He has served as a superintendent, as well as a building principal at the elementary, middle, and secondary levels. His administrative responsibilities have included district-wide curriculum alignment, assessment coordination, innovative program initiatives, technology, grant writing, and professional development.
Brad has served on numerous boards and commissions including the Kansas High School Activities Association Board of Directors and Executive Board. He has also served on the Wichita State University Transition to Teaching Committee. Wade has provided school leadership through many programs and presentations. These include presentations at ESSDAK Technology Day and the United School Administrators Conference.
When asked, "how do you define success as a superintendent?" Mr. Wade responded, "being an effective superintendent is about building relationships, about treating people with care and humanity. When a district has a deep sense of real community, the students who attend, the faculty who teach and the staff that serve feel connected to something greater than themselves. I believe that leaders who have made a real difference in school districts, deeply understand how important a sense of community is to their and the districts overall success. That is what I want to do every day." He also states, "I believe a superintendent must always act with integrity. My actions and values need to be aligned and connected to the deeply held principles and values of the school district. This integrity helps create a deep, guiding principle about "how we do business here". It sets a high standard for everyone throughout the district and creates a sense of authentic pride about the district and what it stands for."
Mr. Wade also shared his thoughts about why he loves education and what keeps him motivated. It isn't so much something he could put into words, but what he looks forward to every school year. "The sound of children kicking a soccer ball, swinging high, and running around playing tag on our playgrounds; Plays, musicals, band, choral, and elementary music performances; Reading to kindergartners; Listening to students share their projects, across curriculum with voice, passion, and influence; Riding a school bus every now and then to remind myself that every employee teaches; School spirit in athletic contests; Walking through schools and visiting classes to hear from teachers and students about their work, their challenges, and their successes; Grabbing a mop or broom or a towel to help clean up a mess; Listening to children read their own stories about things that are good in their lives and, sometimes not so good; Visiting special needs classes and hearing about the sometimes "one inch at a time" success stories that light up the eyes of teachers as they share their stories; Talking with a teenager who almost dropped out and hearing about his plans after a hard-earned high school graduation."
Welcome to the BEAR family Mr. Wade!
#BFND