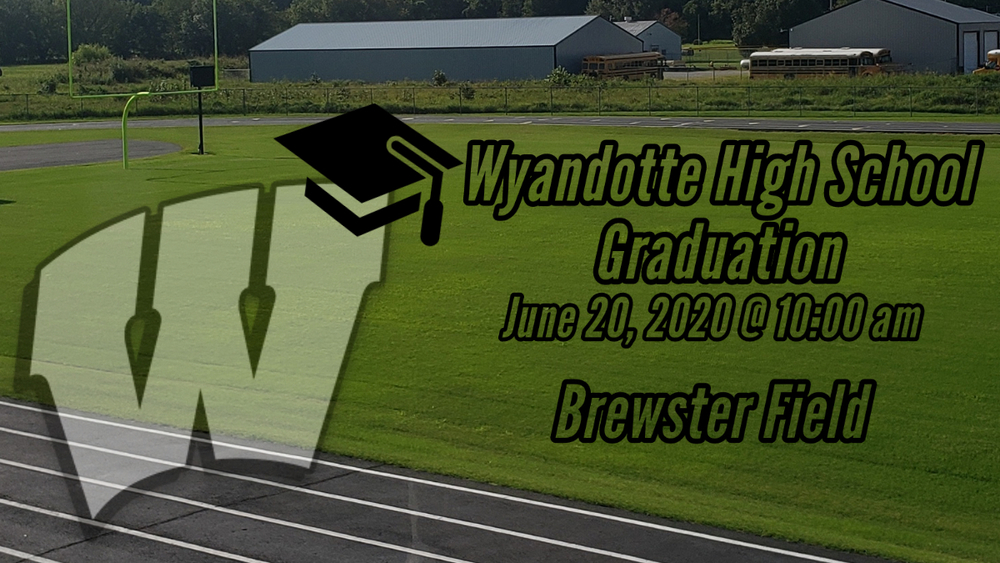 Wyandotte High School Commencement Exercise Information
Samantha Young
Thursday, June 11, 2020
Wyandotte High School would like to announce a time change for the 2020 Commencement exercise. Commencement will begin at 10:00 a.m. on June 20, 2020 at Brewster Field. This change in time was considered because of the possible storms that were in the forecast to move in on the evening on June 20th and to help with the heat that is already started to set in for the summer.
We will follow social distancing protocol staying 6 feet apart while in attendance. There will be seating on the East end of the football field, on the track, and we will use both the North and South bleacher seating. Families may sit together and we ask that you bring your own chair if you wish to sit on the track or football field. Since we are outside, the wearing of masks will be by personal preference.
Important Senior Information:
Graduation practice at the football field next Thursday, June 18th at 9:00 am.
After practice we will distribute caps and gowns.
Seniors will have the opportunity to paint the street after you receive your cap and gowns. Bring your own paint.
SENIORS, if you haven't already filled out the surveys sent to you, please click on the 2 surveys below and complete. Thank you.
Additional Scholarship Information Survey
If you have any questions or concerns, please contact Mr. Steve Buckingham at sbuckingham@wyandotte.k12.ok.us or call the MS/HS office at (918) 678-2222.