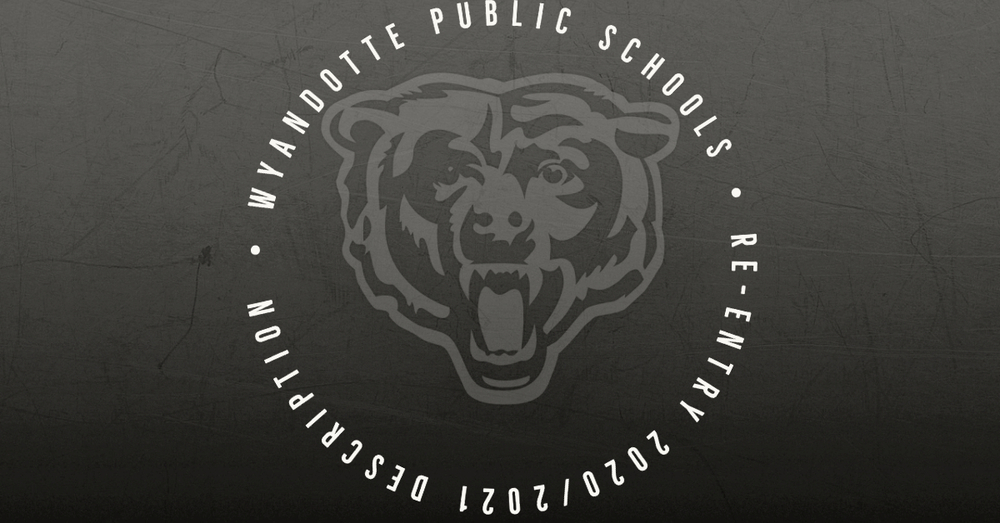 Wyandotte Public Schools Re-entry 2020/2021 Description
Matt Robertson
Friday, July 10, 2020
Dear Wyandotte Family:
We have been busy putting together plans and procedures for the 2020/2021 school year. Much of our plan comes from federal and state recommendations and will significantly change the school environment at all grade levels during the upcoming school year.
Student and staff safety is our primary focus as we face this pandemic period. The goal of this letter is to give you a glimpse of how learning may look a little different at Wyandotte Public Schools during the 20-21 school year.
Academic Schedule
Wyandotte Schools plan to offer two types of learning for our students for this upcoming school year. The first is a traditional schedule. Learning will be face-to-face on campus. The second is virtual learning outside the school to help students and families who may be dealing with health issues or other concerns. To be clear, the better approach for academic purposes is to stay with us on site. We will be moving to distance learning whenever there is a legitimate risk. Our priority is to take care of our students and their families first. A survey has been released that will address these two formats. If the school facilities have to close during any part of the school year due to the COVID-19 pandemic, all students will move to distance learning for a specified period of time.
Transportation
How to safely transport students and provide safety to our bus drivers is one of the schools biggest concerns. We encourage any parent or guardian who is concerned about their child riding the bus to provide their child with transportation to and from school. All bus riders for the 20-21 school year will be required to wear a mask while being transported. Buses will be full and to provide the safest environment possible we are asking all riders to provide a mask that must be worn at all times while students are on the bus. Buses will be sanitized after each route.
School Meals
Elementary classes will receive school meals (breakfast and lunch) in the classroom. MS and HS lunch schedules will be modified to reduce the number of students in the cafeteria. Students will no longer be allowed to serve themselves. If the school facilities have to close during any part of the school year due to the COVID-19 pandemic, meals will be delivered via bus routes or available for pick-up in a similar way to what happened during this past spring.
Technology
Wyandotte Public Schools will provide additional technology to allow students to use digital learning throughout the school year if necessary.
Athletics
Currently we are planning on participating in fall sports (softball, football, cheerleading, cross country) as scheduled. Information regarding spectators at contests, concession, and other safety protocols will be communicated during the month of August.
Safety Procedures
Our priority is student and staff safety. Temperature checks will take place each morning as the students and staff enter the school buildings. Any student with a 100.4-degree temperature will be isolated and sent home immediately. Students who develop symptoms at home or who have been exposed to COVID-19 should immediately communicate with the school to initiate quarantine procedures.
There are logistical differences between the way the elementary operates and the way the MS/HS operates, but whenever possible, cohort groups will stay with themselves to reduce commingling. Passing times will be differentiated between middle school and high school. Lunch periods will be divided as well for MS/HS. Whenever practicable, the room and equipment will be cleaned and sanitized between uses.
The number of shared items shall be reduced. Students will have their own classroom supplies kept in their desk, backpack, cubby, or other container. Adequate supplies to minimize sharing of high touch materials will be provided in classrooms including art supplies, science equipment, etc.
To the extent possible, social distancing will be observed.
Masks are encouraged but optional in the facilities.
All facilities will be cleaned through the day based on guidelines for the CDC and the State Health Department.
Parents and visitors are asked to call, text, or email the school when needing assistance. We are limiting the number of outside individuals and visitors entering the school. The only outside food that will be permitted is student lunches. Water fountains will not be accessible. They will be replaced with bottle filling stations.
Changes to recess and PE schedule will be made to reduce the group sizes.
We believe the changes made to address COVID-19 will offer Wyandotte students the very best learning opportunities; one that is safe and satisfying for each Wyandotte student.
The changes presented in this letter are how we plan to begin the school year at this time. However, we will continue to monitor all mandates issued by state and federal agencies. Please remember this is a very fluid situation and can change at any time. We will take whatever steps are deemed necessary as we plan for the new school year.
More information will be coming in the days ahead as we look forward to the new year beginning on Thursday, August 13.
If you have any questions, please contact any of the building administrators or myself.
Pre K – 2nd Grad Principal: Roxanne McCain
3rd-5th Grade Principal: Jennie Butterfield
jbutterfield@wyandotte.k12.ok.us
MS Principal: Matt Robertson
mrobertson@wyandotte.k12.ok.us
HS Principal: Steve Buckingham
sbuckingham@wyandotte.k12.ok.us
Superintendent of Schools: Brad Wade
Sincerely,
Brad Wade
Superintendent
Wyandotte Public Schools