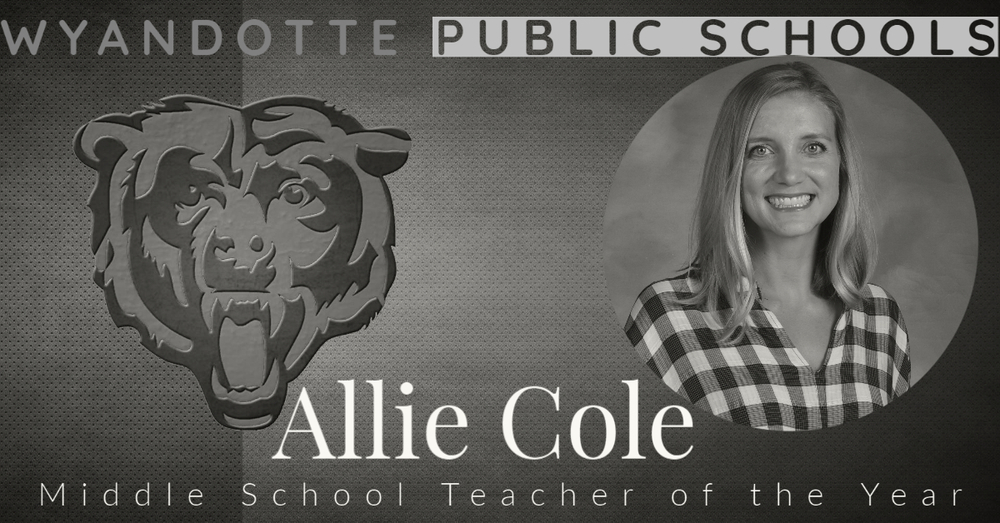 2020/2021 Middle School Teacher of the Year
Matt Robertson
Tuesday, March 30, 2021
We are excited to announce our Middle School Teacher of the Year for the 2020/2021 school year: Mrs. Allison Cole. Mrs. Cole has been teaching middle school math for Wyandotte Public Schools since January of the 2018/2019 school year. Mrs. Cole has a fantastic classroom management approach that is disciplined, engaging, and fun. Her colleagues had a lot of great things to say about her teaching. Here are some examples of things said about Mrs. Cole in the nomination process:
Allie is a creative teacher with outstanding classroom management skills. Her classroom management skills with 6th grade students are exemplary. Her lessons are infused with fun, relevance, and rigor. Students connect with Mrs. Cole and give her their best. Her preemptive classroom management skills keep her from having power struggles with students leaving her more time to engage them with her well-planned lessons. I have watched my own academically struggling child have major growth in his math skills, and more importantly, his confidence in his math skills. Instilling confidence in learning is not easy to attain. She provides a stellar example of middle school teaching.

Classroom management techniques that Mrs. Cole uses in her classroom is a model that could (and should) be followed by all teachers. I would love to see her contribute and lead others with her techniques to others teaching this age group. I truly feel that of more spent time in her classroom, they would want to pick up on some of her ideas so that they had fewer struggles with eligibility and problems in the classroom.

Allie Cole is an excellent example of a teacher who pulls the best out of all of her students without regard to ability. She is kind, caring, well-prepared, and inspirational. I would love to possess her classroom management skills. She exemplifies the qualities of an outstanding teacher who should be recognized.

Remote teaching has been a struggle for all of us this year. I have seen huge improvements in her ability to meet the needs of her students when not in class. She has not had a huge problem with her students' failing, because she has shored up meeting their needs through reflection and flexibility in reaching them.
Mrs. Cole works her hardest to ensure the success of her students, math is not always fun for everyone but she finds ways to make the students enjoy her class!

When it comes to the difficulties of this year, Mrs. Cole has been the most flexible and helpful to her students, she reteaches anything that they might have missed all while encouraging her students along the way.

Mrs. Cole is a real leader in the school, she has also been very helpful to me as a first year teacher. She has been a great role model and someone that I am proud to say that I look up to.

No matter in class, online, or hybrid she was always finding ways to engage her students, to ensure that all of them were successful.
There are a lot of great educators in the middle school. As principal, I can tell you that Mrs. Cole is one of the finest educators I've had the privilege of working alongside. She provides a culture of discipline and high expectations that is genuinely unique. Students want to do well in her class. There are never discipline problems in the classes. She mixes fun and structure with finesse. She is also someone who the students connect with. Young ladies specifically in the middle school look up to her and find someone to admire, mimic, and someone who will listen. Wyandotte is fortunate to have Mrs. Cole and in a whole pool of worthy recipients, she still finds a way to distinguish herself.
Help us congratulate Mrs. Allison Cole as the 2020/2021 Wyandotte Middle School Teacher of the Year!