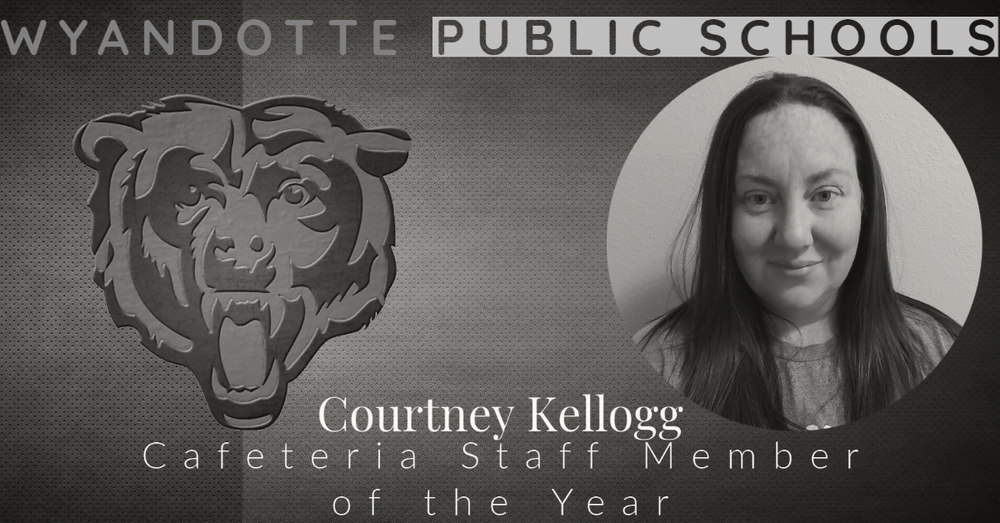 Cafeteria Staff Member of the Year
Matt Robertson
Saturday, April 03, 2021
We began last year also recognizing our cafeteria staff members in our "of the year" awards. Any staff member, certified or not, can nominate cafeteria workers for Cafeteria Staff Member of the Year. Our award this year goes to Courtney Kellogg. Courtney serves as our kitchen manager. She is constantly on the move. She has been one of the busiest kitchen staff members since her first day on the job in August of the 2018/2019 school year. This year, that whole staff has had to go way above and beyond to meet the changing needs of this difficult school year. The meals were being prepared in some cases to-go, others for on-site, and there were constant adjustments being made. Courtney just rolled with the punches. Here is the list of her nominations:
She is always working hard to get the kids fed.

Responsible, always happy, goes above and beyond.

Courtney is a people pleaser and truly enjoys her job and it shows in the smile she wears.

She has had an extraordinarily difficult season to manage and yet, she makes it work every day!

Courtney is an amazing kitchen manager! She works so hard to make sure the kitchen is running smoothly and that our students/staff have great food to eat every day. She also cares about our students outside of school. When the winter storm hit, she went to the cafeteria to make food bags to deliver to students that may have been struggling with getting enough to eat while we were out of school. She's a great asset to Wyandotte Public Schools!

Courtney is always so helpful, (not annoyingly helpful though) and she is very approachable. She goes above and beyond to make meals at school a pleasant experience for students and staff.

Courtney is always upbeat and always helping out!

Always cheerful always helpful

Every day Courtney greets me with a smile and some type of humor. She often jokes about the amount of food I eat, and is happy to help me in anyway possible. I don't always get the best reception from the other employees, but Courtney makes me feel welcome and never makes me feel like a burden.

Courtney is very dedicated to this school. She always has a smile for the children and makes sure to know them personally. On a personal note as her boss, she is an incredible KM and I couldn't ask for a better partner to make the child nutrition department a success!!!!

Courtney goes above and beyond and is always willing to help.

Courtney has a great attitude and it shows! She goes above and beyond to take care of students and teachers. She sets a much needed happy tone in the cafeteria.

Courtney is always in a wonderful mood and will do anything you ask her to do. She always makes sure we are taken care of in the way of food and that we enjoy our lunches. She comes by and asks periodically if there is anything they can do differently that would help meet the needs of students and staff. I enjoy working with Courtney and lunch is always a smooth and easy process even thought I know behind the scenes it's really not. We could not ask for a more caring and supportive staff member in the kitchen, she is much loved!

Courtney's a hard worker. She has demonstrated her need to be flexible the past year, while working with a changing environment with each new day.

Courtney makes the cafeteria a fun place to be and she strives to make the food as delicious as possible.
Courtney Kellogg is not only a valued employee for Wyandotte Public Schools, she is truly my partner in running the Child Nutrition Department.
I hired Courtney as my kitchen manager 3 years ago and since then, we have made leaps and bounds in adding things for the kids. Any time I have another idea, she listens and before I know it, excitedly runs with it because she cannot wait to do more for the students.
Courtney has a passion in many ways for her job; she loves doing things for others, she loves making a difference in children's lives, she loves putting smiles on people's faces and she loves her kitchen staff and gives them her heart. Courtney makes the cafeteria a fun place to work while making each of her staff feel valued and truly loved.
Courtney's work ethics are more than anyone could ask for. She is not only highly productive, but she motivates the other kitchen employees to be productive as well. Courtney also cares about quality. She always makes sure that the food provided to students is the best quality possible and welcomes feedback from students. Courtney is humble enough to implement as many changes suggested by students as possible while maintaining nutrition standards.
Courtney makes the cafeteria a better environment for all who enter the doors and I am proud she is beside me.
Help us celebrate our Cafeteria Staff Member of the Year: Courtney Kellogg!