The Wyandotte Cheer Squad will be showing off their regional routine tonight @ 6 pm in the gym. Everyone in the Wyandotte community are encouraged to come and watch! #BFND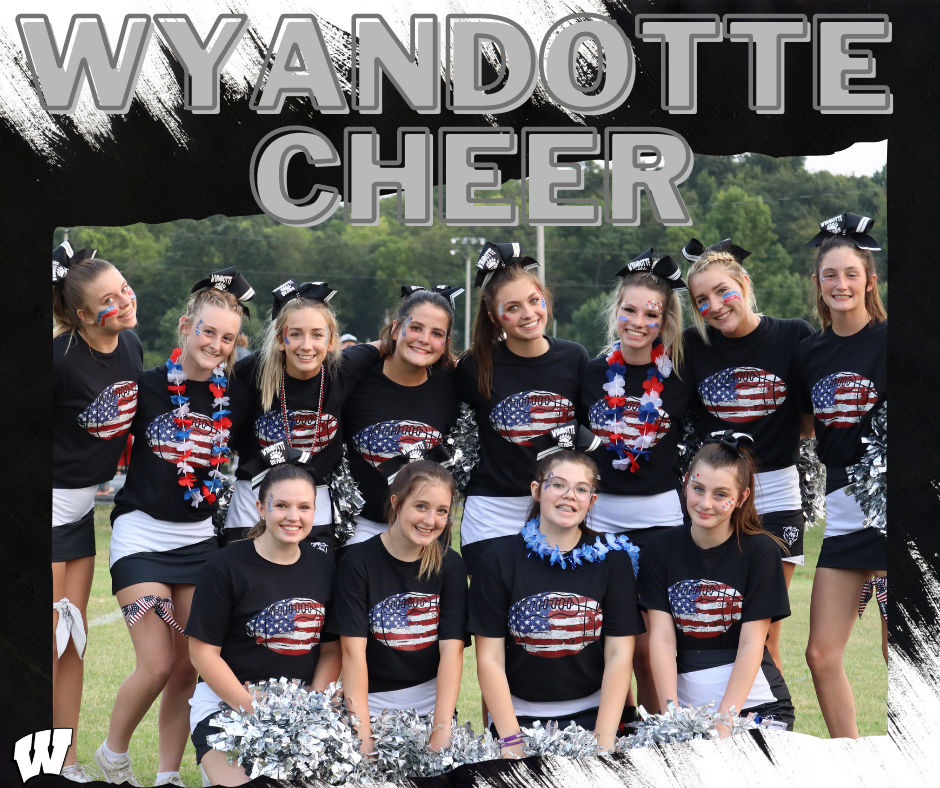 Show your school spirit! There will be 5 home football games that will have "Theme Nights!" On Friday, September 10th show up in your "Patriotic" gear (Red/White/Blue). Students are allowed to dress up at school on Friday and continue the spirit at the football game! We encourage the whole Wyandotte Community to join! #BFND Flyer Designed by CSII student Carley Turner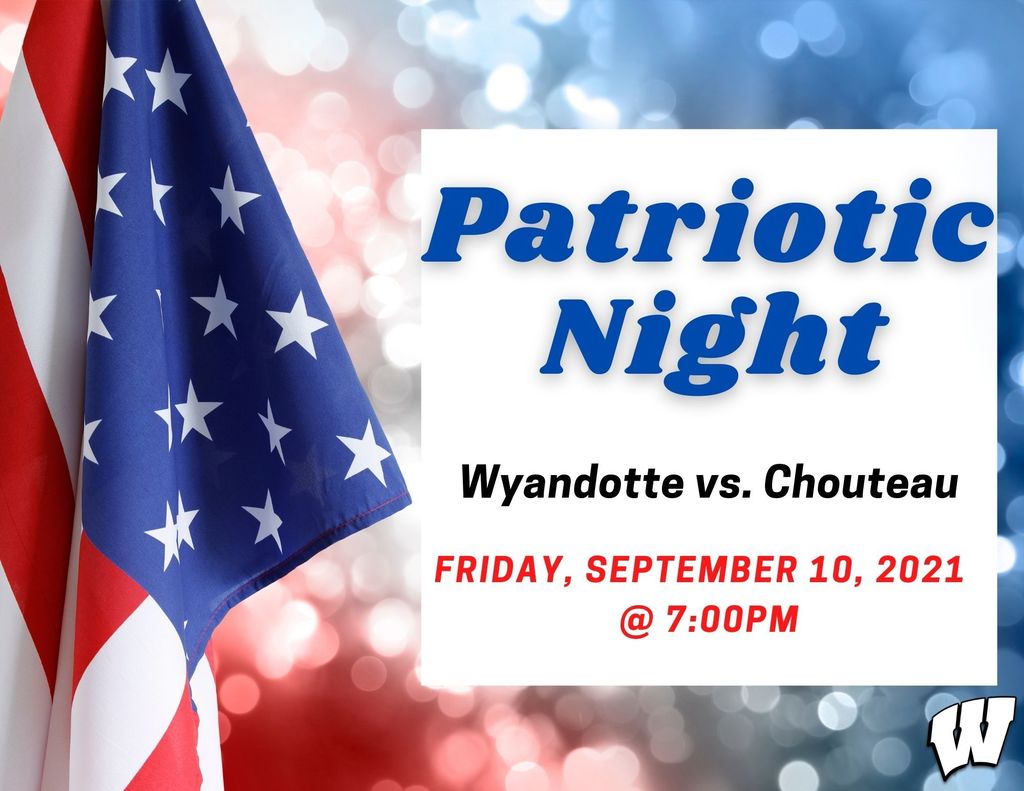 BEGINNING BAND STUDENTS: Please see the attached flyer below! Rental night happens THE DAY AFTER school starts, so please be aware of that! If you know someone in beginning band who doesn't have Facebook access, please pass this info along to them!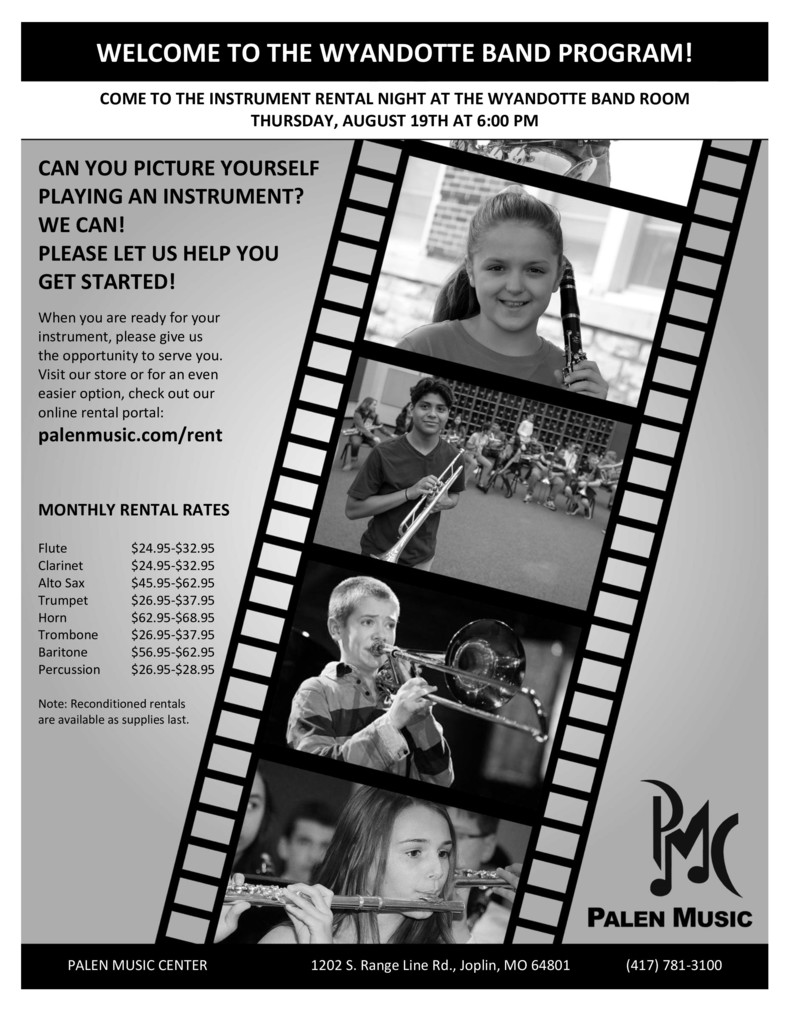 Elementary, Junior high, and High School practice will start on Wednesday, July 28 at 7am. If your athlete is interested please contact Coach Siegrist for details. Below is a copy of our practice schedule.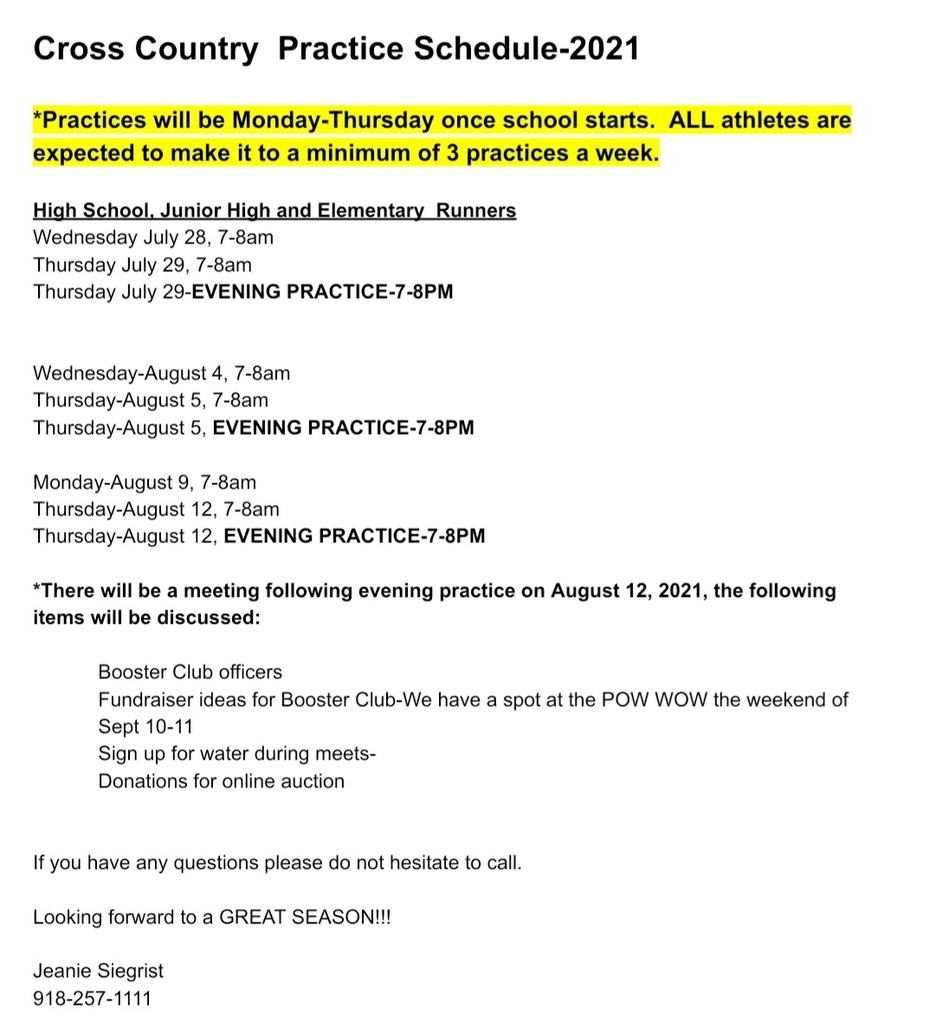 2021/2022 Wyandotte Elementary school supply list. #BFND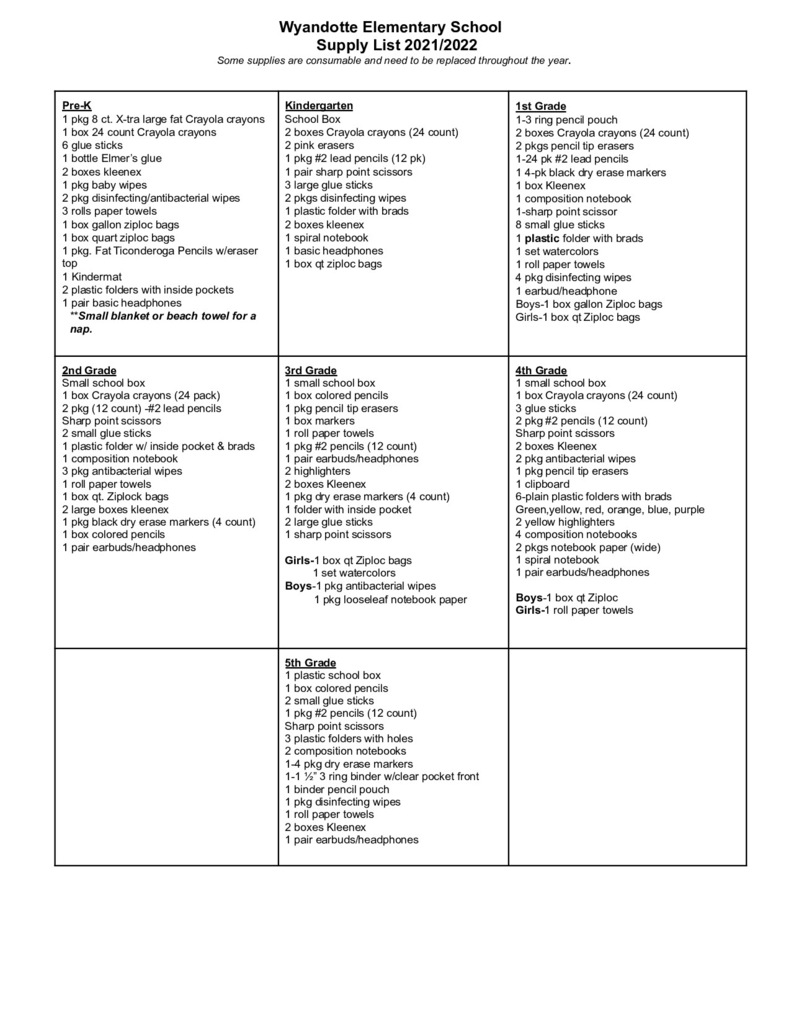 Summer Office Hours: June 1st-4th our MS/HS secretary will be out of office on vacation, so reaching the office might be a little more difficult this week. See attached image for administration/office hours. Have a great summer!
Wyandotte athletic banquet will be held tomorrow, May 11th @ 6 pm in the cafeteria. There will be no restrictions. #BFND
Wyandotte HS Prom will be held this Saturday, April 17th at the RiverBend Convention Center, beginning at 7:30 p.m. All students will enter through the south entrance behind the hotel, if you use the western drive way of the hotel it will take you to the back parking lot. Pictures can be taken in this area as well as parent send-off. Once they enter the convention center, students will have to stay until they plan on leaving for the evening. Parents will not be allowed in the building during prom. Thanks for your continued support and cooperation of Wyandotte HS. Steve Buckingham Wyandotte HS Principal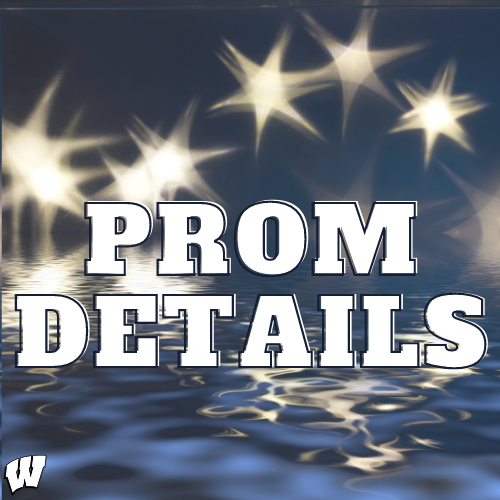 Several Wyandotte students recently traveled to Stillwater, OK to compete in the FCCLA State Star Events on March 23rd-24th. Congratulations on your achievements ladies! Check out the photo for more details! #BFND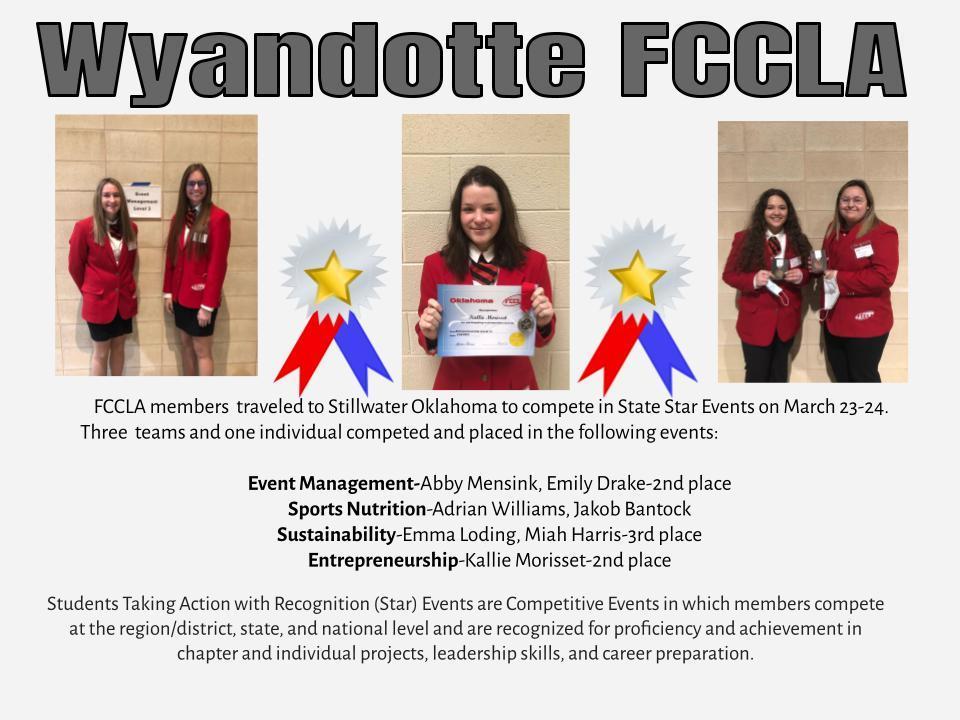 On Monday, April 5th 8 members of the Wyandotte Band traveled to Wagoner, OK to participate in the MEOBDA All-District Honor Band. They had a full day of rehearsals and then performed the evening of Tuesday, April 6th. Awesome events happening at "The Dotte!"
Junior High Track Meet: 6th-8th Grade @ Quapaw HS Monday April 5, 2021.Meet at Wyandotte Field House to load the bus at 8:00 AM. Many athletes kept their uniforms after the Adair meet. Please ensure your child brings their uniform with them if they kept it. All spectators are allowed at meets at this time. We will keep you updated if anything changes.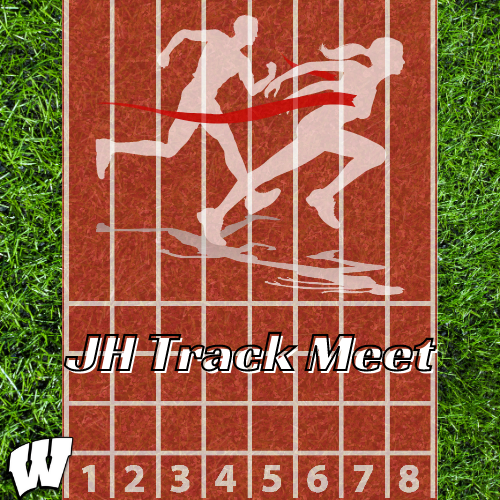 Just a reminder, Wyandotte Public Schools will not be in session next week March 15th-19th as it is Spring Break! Enjoy and see you all soon!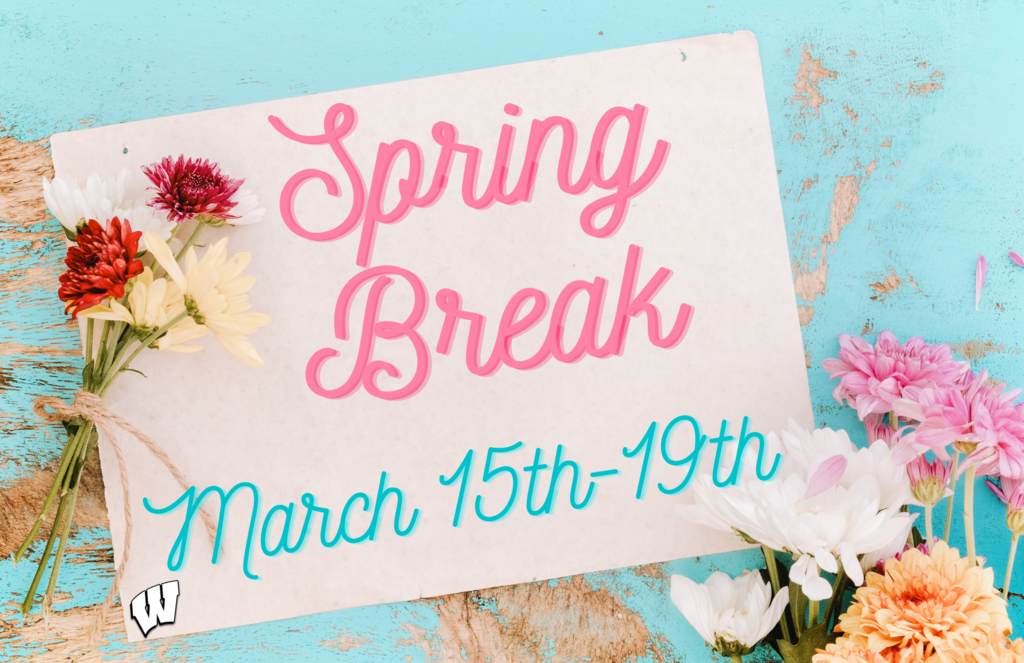 UPDATE: All baseball and slow-pitch softball games have been canceled for today due to rain!
JH Powerlifting Update: We were just informed on Friday, March 5th that 3 more JH lifters qualified for state. 1) 8th grader Evan Brown (123 weight class), 2) 9th grader Dayton Lasley (181 weight class), and 3) 9th grader Angel Salazar (198 weight class). Congrats and good luck! #BFND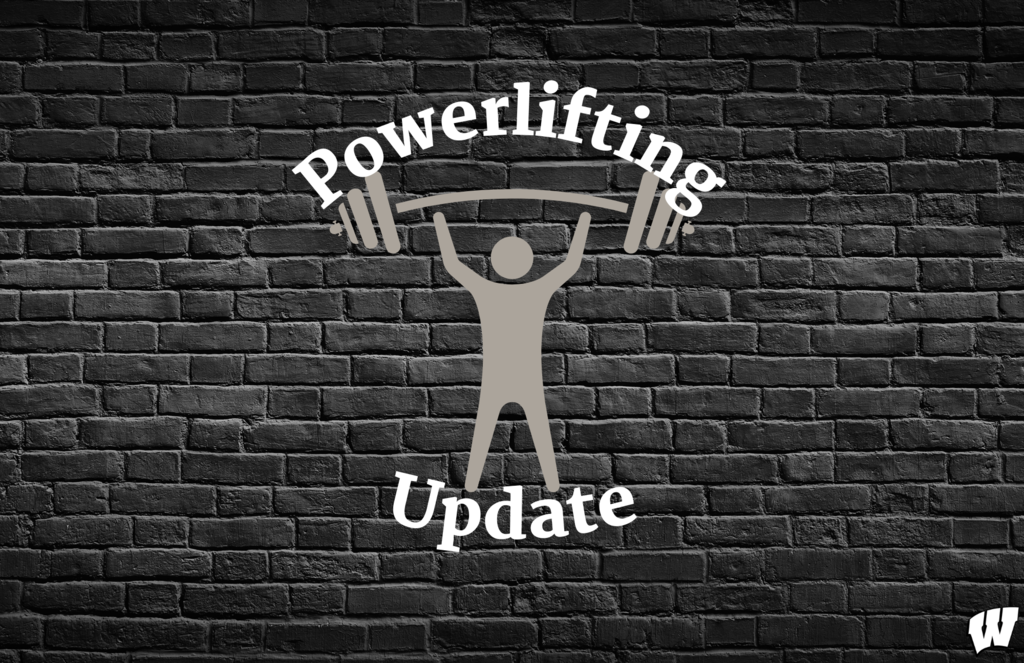 UPDATE: Cheer tryouts have been moved to Friday, March 12th @ 1:00 pm in the NEW gym. Thanks, Coach Jarrett.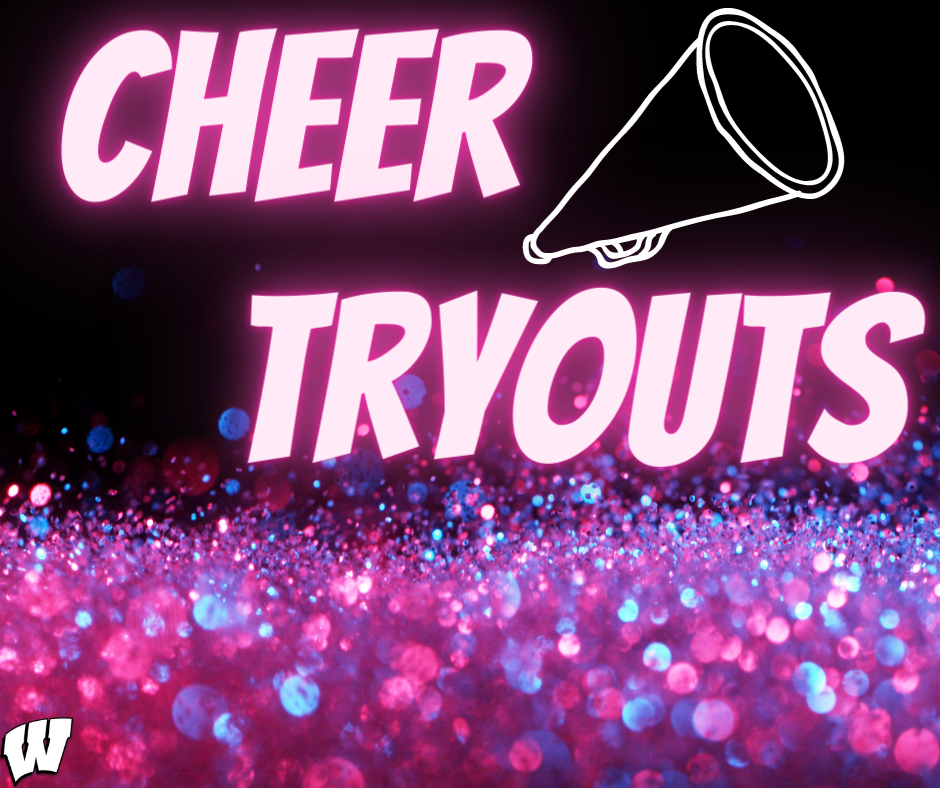 Hear Ye! Hear Ye! All MS/HS students, WE NEED YOU! Auditions for the virtual talent show are due by Thursday, March 11th. That is next Thursday. Get your talent together, screencastify it and send it to Ms. Coyne. Check the flyer for her email or go see her in the Underground. Qualifying performers will be notified Friday, March 12th. It promises to be an unforgettable show full of laughter and creativity.
Schedule Updates: The Wyandotte Athletic website has been updated with track and baseball schedules for 2021. Go to the school website, click on MENU, and click on "Wyandotte Athletics Website." #BFND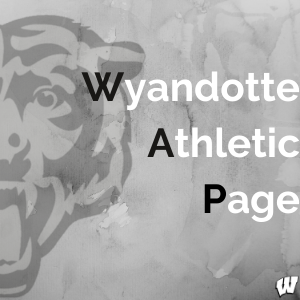 HS Basketball Update: Today's HS basketball games @ Fairland are canceled due to weather. Stay safe! #BFND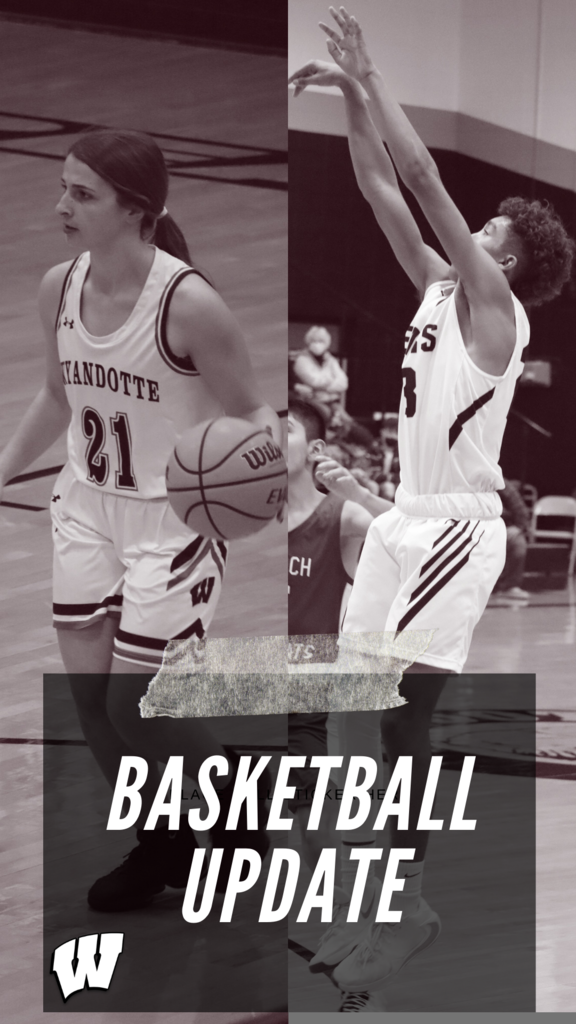 Attention Wyandotte Community: WYANDOTTE LIONS CLUB is here to serve during this extreme winter storm. Please call one of the numbers listed below if you have a non-emergency need (i.e. blankets, water) we might assist with this weekend. 417-592-8052 918-533-1162
Wyandotte Public Schools (OK) WILL be having a virtual learning day but NOT be in session on Tuesday, February 9th on site. All students need to access their devices and do all assignments listed for tomorrow. Teachers and staff will be available by email.  Stay safe!